If the expiration date of your student/staff identification card is "2018年3月31日" and you are expected to graduate or leave Tokyo Institute of Technology in March, you have to return all library books you have by Saturday, March 17, 2018. When the library is closed, you can return them to the book return outside of the entrance.
When you lost or damaged a book, come to the library counter between 8:45 a.m. and 5:00 p.m. on weekdays.
Please make sure if you have library books.
 >> See the Online Request for the current borrowing status.
 * Log in to the Online Request and you can confirm the list of books you have and their due dates in the "Borrowing and Reservation Status/Renewing".
Additionally, please make sure to receive photocopies you ordered from other libraries before graduation or leaving.
If you are scheduled to stay in Tokyo Tech after April, you may borrow books after March 18. For details, please contact us.
[Contact Information]
・Ookayama Library / Suzukakedai Library counter (Weekdays 8:45 a.m. - 5:00 p.m.)
・Ask Service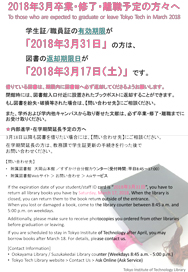 contact
Library Services Group /
tel
+81-3-5734-2097(Weekdays: 8:45-17:00)
Suzukakedai Library Group /
tel
+81-45-924-5152(Weekdays: 8:45-17:00)